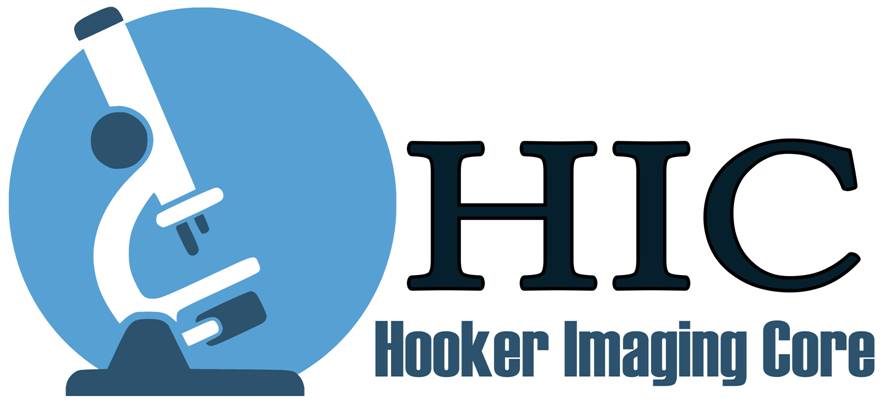 Overview of Services

The Hooker Imaging Core (HIC) will be an open core providing light microscopy instruments and supporting instruments for the UNC biomedical research community, with some usage from outside users as well. We will have four widefield microscopes equipped to provide color and low light level imaging with acquisition speeds of up to 30 fps. Applications will include ratio imaging for calcium concentration and automated multi-time, multi-position, multi-wavelength, z-stack acquisition of fluorescence images and tiling of multiple images to create a large field of view. One of the widefield microscopes will be the fluorescence-equiped Leica dissecting scope for more macroscopic specimens. We will also have four confocal microscopes including the flagship confocal, a Zeiss 880 with Airyscan, the latest model with superb image quality and a friendly user interface. Confocal imaging will be available at a large number of excitation wavelengths from deep blue (405 nm) to far red. An upright confocal microscope will be available for wet specimens such as whole Zebrafish. Two of the confocal microscopes will have on-stage environmental chambers to support live-cell imaging. A full tissue culture suite including incubators, hood and refrigerator will be available to users of the core. We will provide a computer workstation equipped with software for off-line processing of acquired images including both commercial (Volocity and Imaris) and open source (ICY, ImageJ, etc.) analysis software. Training and other assistance will be provided by the core co-directors. After training, users will independently perform their experimental research with consultation available with the co-directors when needed.
Getting Started
Users must be trained in order to use instruments independently. CLICK HERE to request training.
Leadership
Core Faculty Advisor:
Ken Jacobson, PhD., Kenan Distinguished Professor
Core Operations Director:
Robert Currin

email: robert_currin@med.unc.edu
phone: 919-966-5507
Location and hours of operation
Hours
Location

Monday - Friday

8 am - 5 pm

**Facility is available 24/7 to trained users **

Department of Cell Biology and Physiology

2nd Floor of Taylor Hall

Chapel Hill, NC 27599-7090
Links and Resources