Overview of Services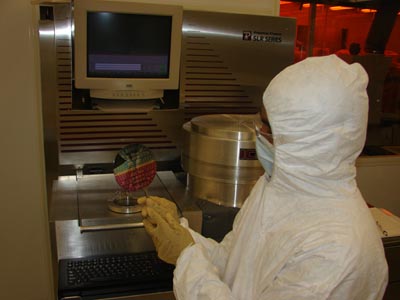 Semiconductor fabrication clean room facility. Services include-
Plasma etching facilities that include plasma enhanced chemical etching and deep trench etching.
Wet etching and chemical processing bay for wet chemistry
Class 10 photolithography bay with manual and automatic wafer spin coating, mask alignment and development
Proflilometry bay including 3d imaging, film stress,thiickness measurement and probing stations.
7 tube processing furnace for wet/dry oxide, boron or phosphorus doping, poly silicon, annealing, and LTO.
Metallization Bay includes e-beam and RF -DC sputtering systems.
Sputtering targets include Ti, Al, ZnO, Ni, Co, Nb, Si, Mo, Chrome, TiO2, Fe, SS, ITO, Al 1% Si, Ta, Si3N4, SiO, ZrO2. All are 8" diameter for unifomity over 6" wafers.
ebeam capabilities include single and dual evaporation systems.
ebeam sourses include Au, Pt, Ti, Cr,Cu, Al, Fe, Si, C, Mo
PECVD deposition system for silicon oxide, nitrides, and oxynitrides.

Gaining Access
Submit a Usage Proposal form to Core Manager for verification of capabilities: Usage Proposal Form
Submit an Account form to the Account Manager: Account Form
Contact Account Manager for billing detail and to establish a user account
Schedule Laboratory Safety Training: Environmental Health & Safety Training
Provide certificate of completion of training to the Core staff
Schedule Laboratory Orientation and receive training
Read the nFab Safety Training Manual: Safety Training Manual
Take and pass the Safety Quiz
Sign the Release of Liability form and submit to Core Manager: Release of Liability
Obtain ilab Username and Password
Schedule equipment training. Must show competence before receiving access rights to nFab tools: Tool Request Form
Schedule equipment use on ilab
Note: In some cases the exact order is modified to fit schedules
Wayne State Users

Please click on

sign up

to register for an account using your Wayne Access ID.

For general instructions on how to reserve time on equipment calendars, please click on the link below.
All users that are not internal to Wayne State:
For users external to Wayne State, please register for an iLab account by clicking on the sign up link at the upper right corner of this page. An account is required to make reservations on the core equipment calendars.
For general instructions on how to reserve time on equipment calendars, please click on the link below.
Leadership
Dr. Mark Cheng - Director
Dan Durisin - Clean Room Operations Manager
Bill Funk - Clean Room Manager
Chemika Buffington-Manager, WSU Core Facilities

Location and hours of operation
Hours
Location

8:00 AM to 6:00 PM


Monday to Friday

3rd Floor Engineering Building

Wayne State University

5050 Anthony Wayne Dr.

Detroit, MI 48202




Links and Resources
nFab Video:http://vimeo.com/30562603
Map